Your business security is still our primary focus!
It's a Massive Launch Month!
Don't Dive Head-First into Windows 11 Without Reading this First
Is your PC ready for Windows 11?
How can you find out more?
If your devices are not ready what can you do?
Do you need some expert guidance to audit your Windows 11 panorama?
We are helping all of our clients to transition over the next few months, give us a call.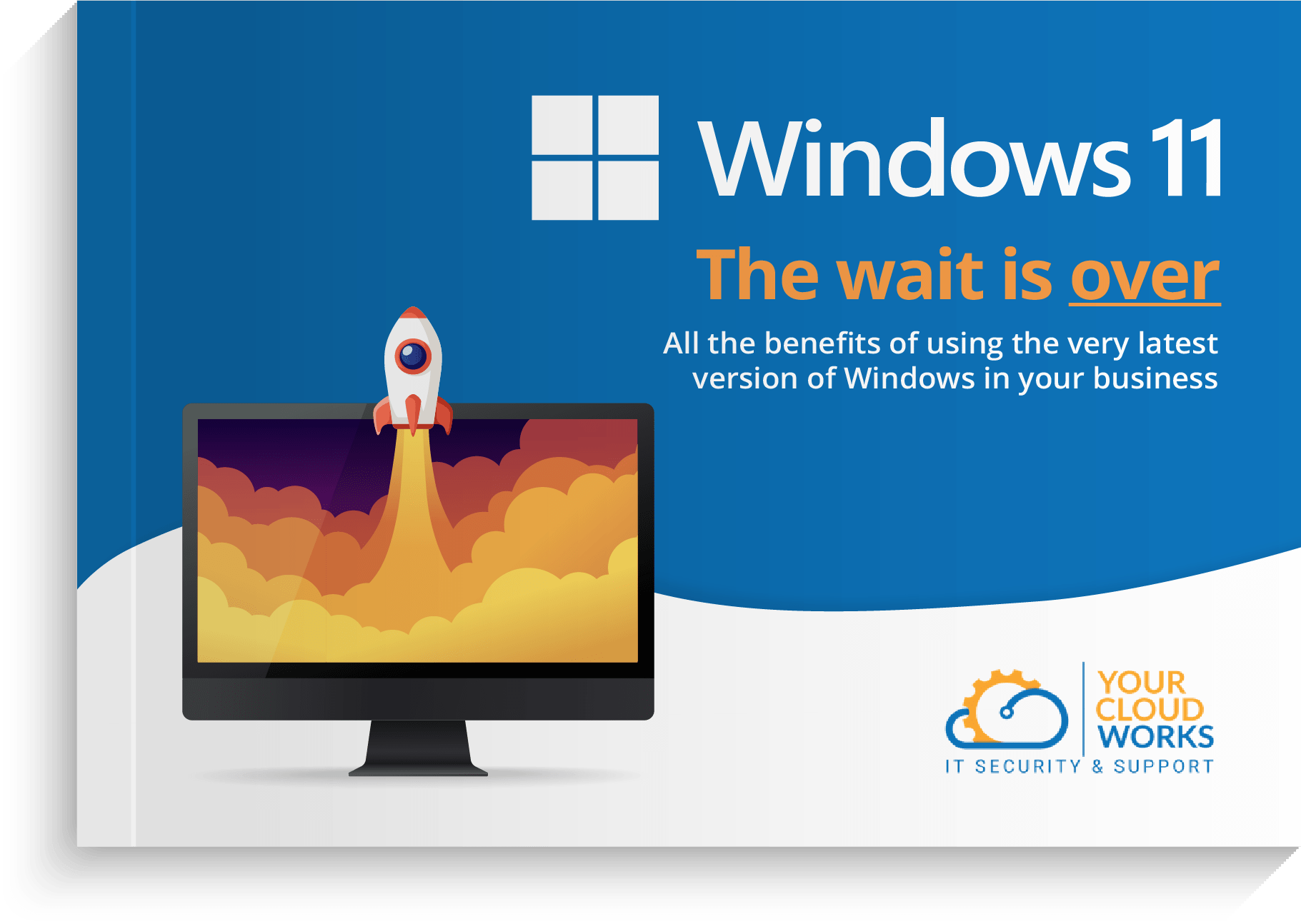 Your business security is still our primary focus!
Every Business Will Face
A Ransomware Attack
Be prepared: 
Sooner or later your business WILL be attacked
5 steps to improve your ransomware resilience 
Ransomware is the most terrifying data security threat your business has ever faced. 
Imagine all your staff trying to login one morning. But all of them get a bright red screen saying your data has been locked away, and you must pay a huge ransom in Bitcoin to get it back.
Terrifying.
Read our new guide now. We'll answer all your questions about ransomware. Plus you'll discover five steps to improve your business's ransomware resilience.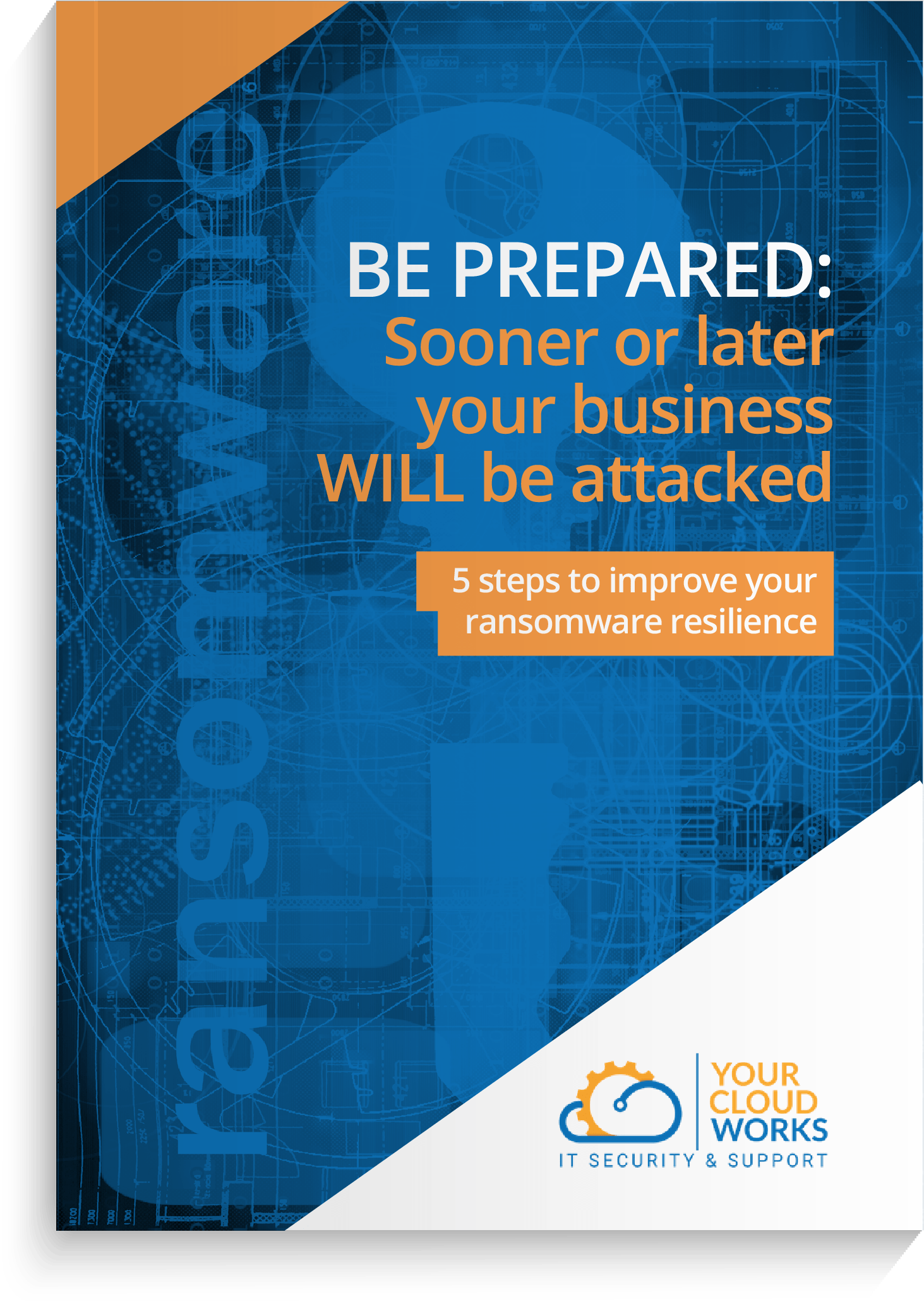 Your business security is still our primary focus!
If your IT support company is ALWAYS fixing your technology… it's time to switch
Improve profits with your IT partner's Proactive Problem Prevention
Just fixing technology when it breaks is so 2010. These days most businesses prefer an IT partner who proactively prevents problems from happening.
If you don't have this, you really need to read our brand new guide. You'll see the countless benefits for your business of a more proactive approach to your IT.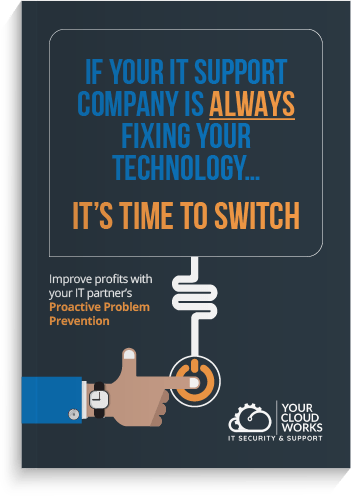 Your business security is still our primary focus!
Let's talk about the hidden treasures of Microsoft 365
Most businesses get MS 365 just to access Word, Excel, PowerPoint and Teams. And then they discover there are so many other apps included.
How many of these hidden gems could improve the productivity of your team?
What are these additional 365 tools for?
We have chosen 10 apps that might just make a difference to the way you get the most from your chosen IT suite.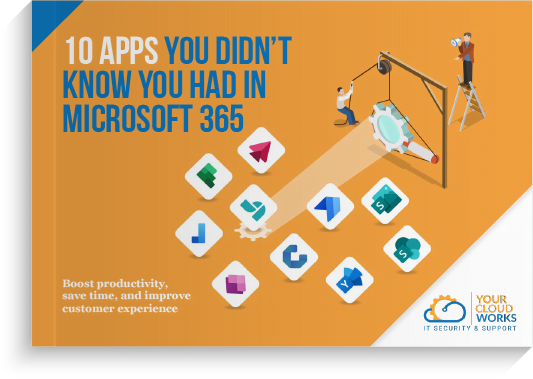 Your business security is still our primary focus!
Sadly, the biggest security threat to your business is on your payroll
Revealed: Look at the real cost of insider attacks - and how to prevent them
The chance of your business's data being breached by an inside attack is high.
Most inside attacks are accidental. A well-meaning employee clicks on a bad link by mistake.
But there are some attacks caused by malicious attackers, deliberately looking to do damage, or make money.
Both of these kinds of attacks can be prevented and minimised by focusing on five key areas in your IT strategy.
Read our new guide now to assess how prepared your business is.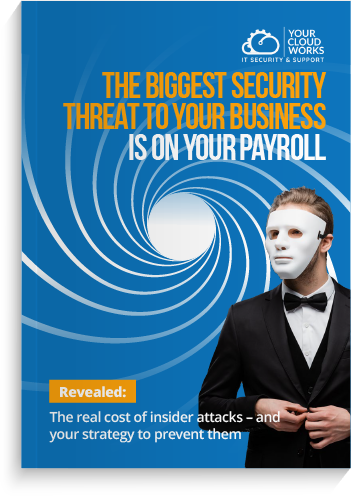 Your business security is still our primary focus!
These are the threats to worry about
An easy to read guide to the 9 most terrifying types of malware
All businesses are being targeted by malware, all the time. And it's estimated there are now one billion pieces of it out there.
What is malware? It's malicious software that's been designed to do damage to your IT systems, or steal your data.
Malware terrifies most IT professionals. And it should terrify you too. 
We've written a brand new guide to tell you about the nine most common types of malware. It's been written so anyone can understand it.
Don't take your business security for granted, let's talk about keeping your team completely safe.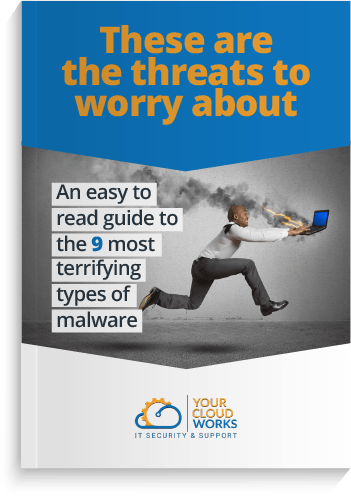 How safe is your business data? What if your office is on fire?
Crisis: Your office is on fire
This is something none of us wants to experience. But it does happen.
There's a small fire in your office. No-one is hurt and everyone is safe. But the damage to your workplace is unbelievable.  
Here's a good question – if there had been a fire in your office last night, what would you wish you'd got round to doing yesterday?
Think about all your computers and specifically the data on them. Is your data as protected and backed up as it could be? 
Are you triple sure of that?
Read our brand new guide now. It'll show you the things you need to make a priority to keep you protected from any disaster.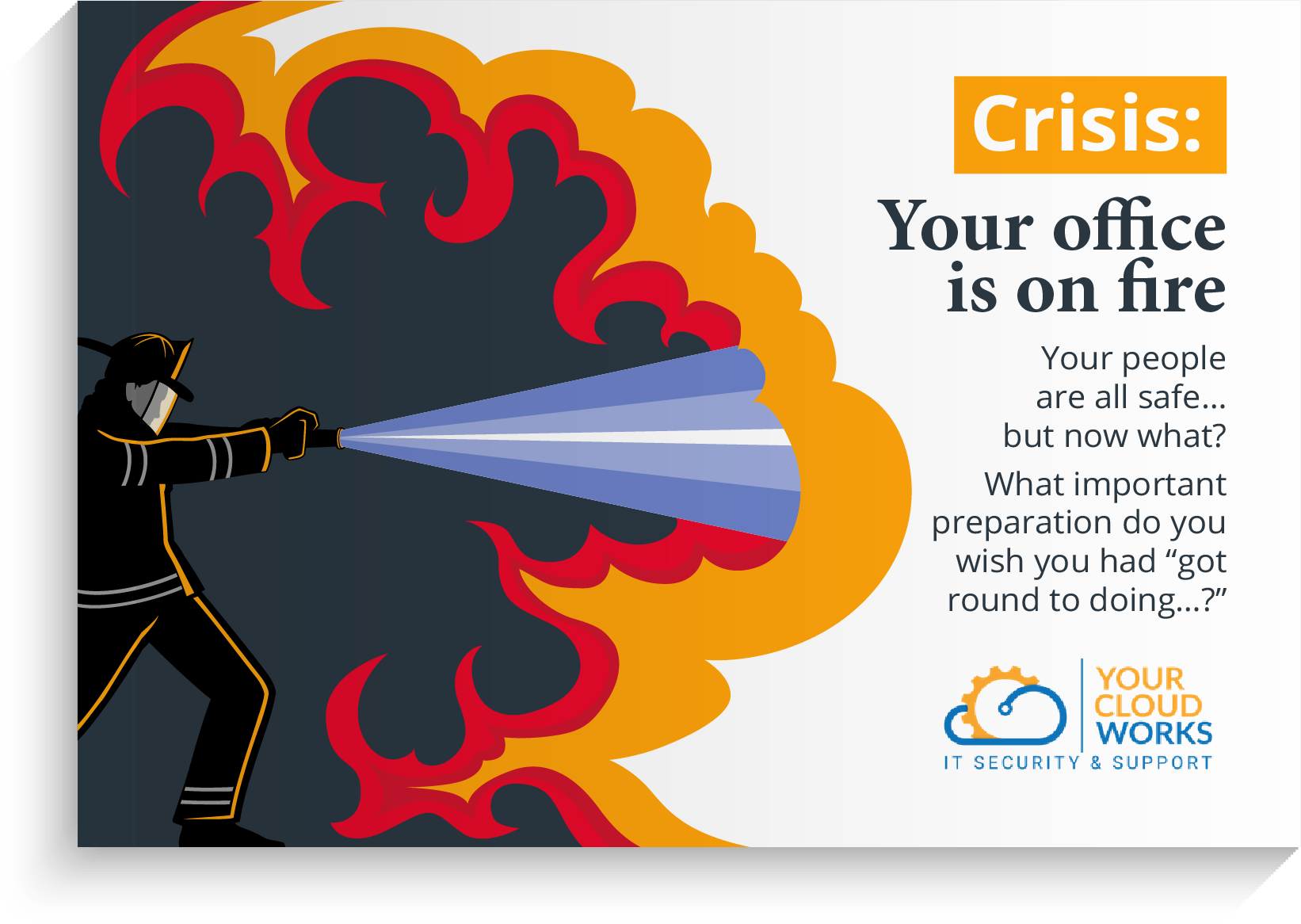 Cyber-crime: Your business's 5 step plan to prepare and protect
Two years ago, two thirds of all organisations reported some type of incident relating to cyber-crime.
That's bound to be higher now because of the fraud opportunities created by the rush to Work From Home.
In fact, overall the world economy loses more than $1 trillion to cyber-crime every year.
It's a figure that's increased by more than 50% since 2018.
Fact: Your business needs to be as prepared as it can be against the threat of cyber-crime.
Read our brand new guide now. And you'll see our recommended 5 step plan to prepare for an attack, and protect your business.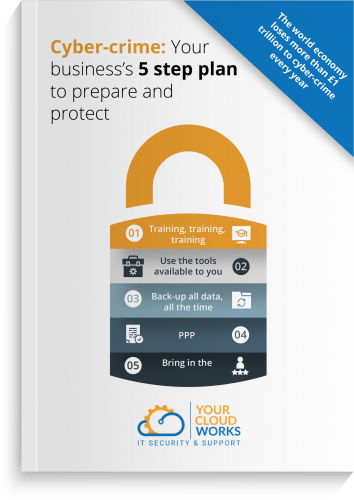 What are the 7 signs that you really do need a new computer?
The current economic climate is not ideal for spending crazy money on replacing IT hardware across your company.
How can you really know where that IT and Communications budget would be best spent?
What signs should you look out for when deciding whether to replace or repair your IT hardware?
Is it really dangerous for your business data and security to continue using outdated PCs and Laptops?
This month's guide will answer all of these questions and guide you down the right path regarding your older devices.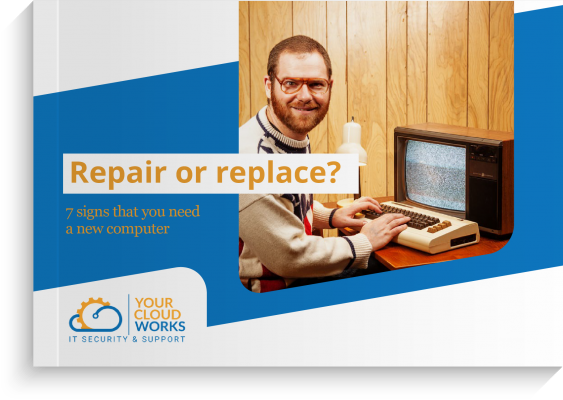 The top 5 questions you could ask us, that we'd love to say 'YES' to
Due to the pandemic and the lockdown, hundreds of local businesses have now questioned the quality of the IT support they were receiving. Is it what they really need? Should it be doing more? Much more?
Your Cloud Works has been very busy recently talking to local businesses, and onboarding new clients as their trusted IT partner. You may even be one of those new customers.
There are five questions in particular that you could ask us, and we'd be delighted to answer with a very positive YES! 
These are the important questions about the real quality of your IT Security and Support. So we've put them into this brand new guide.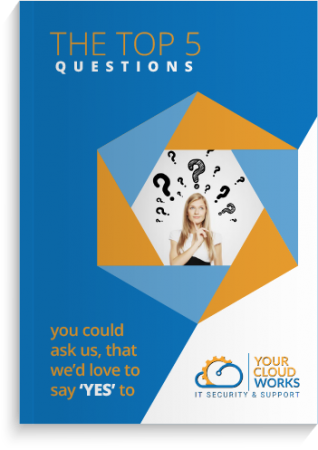 Your 12 page guide to Productivity in 2021
Would you agree that we need to attack 2021 with positivity?
To shake off the memories of 2020, let's focus on improving sales and profitability? Excellent.
We have noticed a great need to help business teams to get more done in less time with the best possible tools.
Our new productivity super guide is looking at setting goals, collaboration, and communication. Let's look closer at our most highly recommended productivity tools.
Download, consider and share this super guide. We are looking to support local business in every way possible, making 2021 a powerful comeback year!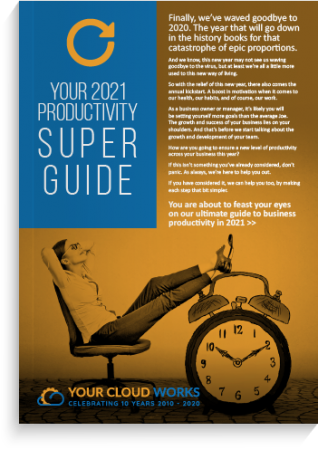 What IT Strategy is Right for your Business in 2021?
Let's take a closer look at the 5 key areas that need to be addressed in your IT strategy for 2021. Let's face it, 2020 has been a real struggle, but financially the next couple of years will be all about recovery and business strategy.
Have a read through our free December guide and see which of the 5 areas you already have in place and which areas your need to give some attention to.
It might seem overwhelming to plan your IT strategies for next year, please give us a call to discuss your best options.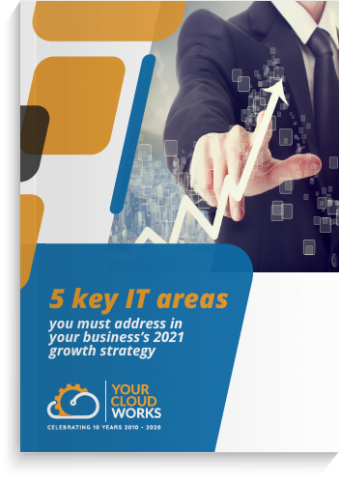 Stop for a second. How would you know about a ransomware attack on your PC?
A ransomware attack is one of the most terrifying things that can happen to your business. It is a Cyber Kidnap using your data!
Sadly most people don't realise is that hackers access your system many days before they launch the attack. It takes time for them to set it up, and prevent your IT Partners from helping.
So there are signs to look out for – ways to spot if your system has already been breached, and an attack is imminent.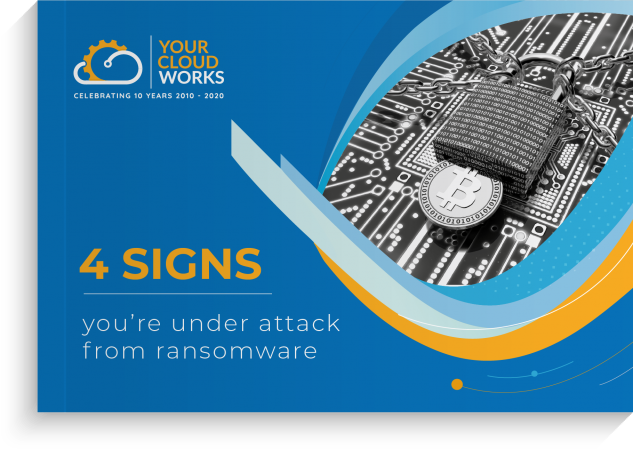 The ultimate secret weapon for keeping your business data safe.
Cyber Security Awareness training for every member of your team!
Of course you should have an IT partner protecting you with a blended security package (blended means getting the right mix of security products that protect you and your staff, without inconveniencing you while you're trying to work. It's a balancing act), but your staff are your front line of security.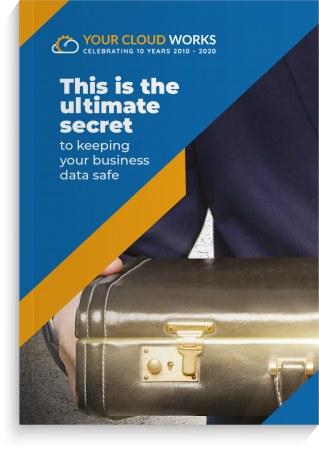 Are you set up for working anywhere, on any device at any time?
2020 has thrown some unusual business changes at us. Your staff are getting used to working from home, or getting back to the office, or between both. They need guidelines on secure IT usage and data protection, this guide will help.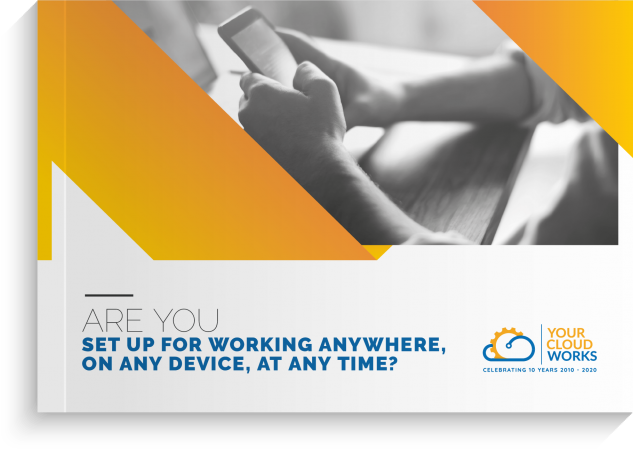 Ransomware is still the fastest growing crime on the planet
But what does it mean to your business? How can you protect your team and your data?
Read the stats and then the steps that can prevent your business from falling into the jaws of ransomware.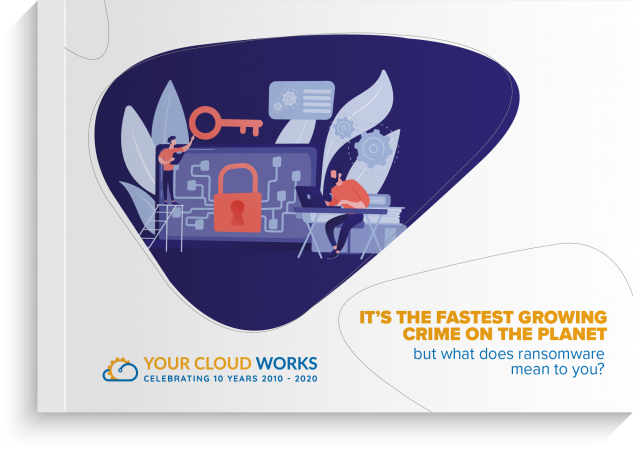 Improve how you work from home or the office with Microsoft Teams - A step by step guide
Unless you've been living on another planet, you've probably noticed that things have been a little… strange, lately.
Covid has changed the way we do pretty much everything. And it looks as though it will be some time before things go back to the way they were. If at all.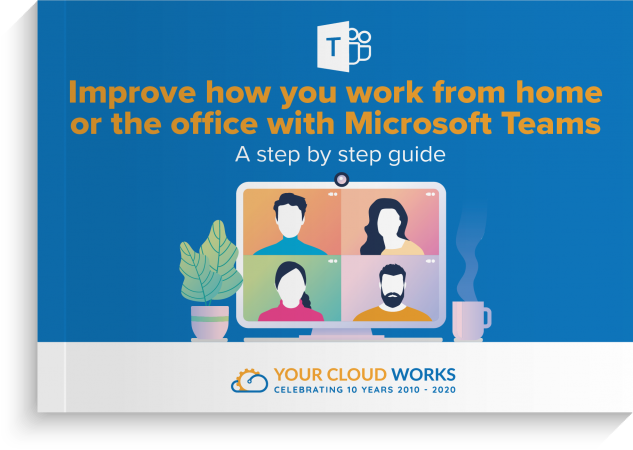 5 DIFFICULT QUESTIONS to ask an IT support company
Loads of businesses decided during lockdown that it was time to move to a new IT support company. Because of the way they were treated when lockdown happened, and while they were working from home.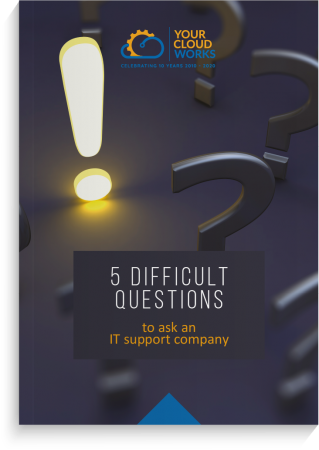 Preparing to go back to your workplace. There are three main elements to plan for…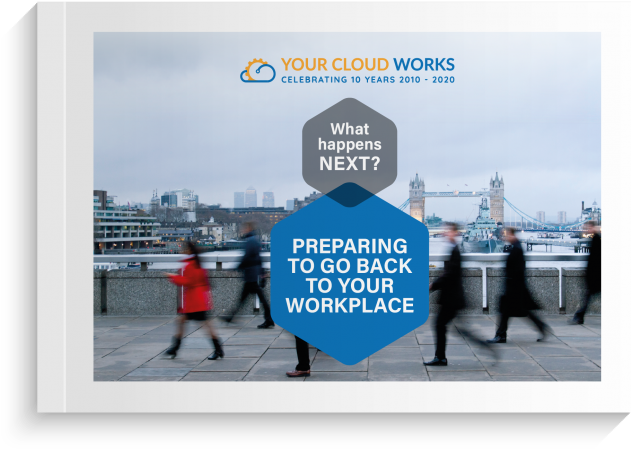 7 Steps to keeping your company data safe on your staff's devices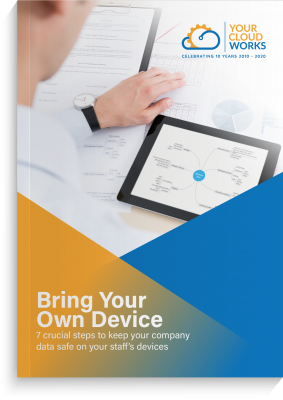 April 2020 - Tony Capewell
Security for your Microsoft Office 365 Subscription you should not be without.