We are your Google Jamboard partner
Unlock your team's creativity with a digital whiteboard; real-time collaboration from anywhere in the world. It allows better idea development with creative drawing tools, clip content from the web, use Google search or add content from Google Drive.
Collaborate, create, and bring
your team's ideas to life.
Google Jamboard brings your team together with the same real-time co-authoring that powers G Suite's apps. Unlock your team's creative potential – whether they're in the same room using multiple Jamboards or across the world using the Google Jamboard app on a phone or tablet.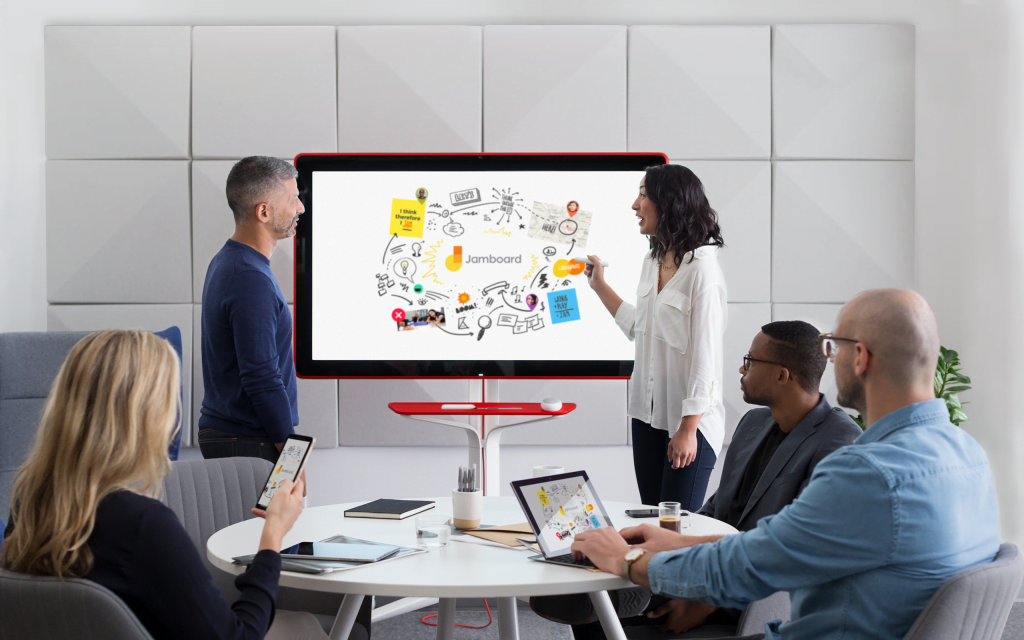 Let's Jam, connect your team from anywhere
Designed for precision, ease and productivity
Google Jamboard's stunning 55-inch, 4k display shines as the focal point for creativity in the workplace. It's easy to move around the office with its purpose-built portable stand and single-cable setup. You'll never have to worry about running out of ink or batteries thanks to a passive stylus and eraser that don't require pairing.
The 4 Reasons for Jamboard
Google Jamboard gives you an intuitive, fast interface on a 55" screen that also works on your phone and tablet. With just a couple of taps you can project Jamboard into a Hangouts video meeting to put everyone on the same page, even if they aren't in the same room. 
This all applies not only to your teammates, but also to clients and partners so you can extend the collaboration beyond the walls of your company.
Jamboard offers creative drawing tools, handwriting and shape recognition, pre-made stickers, sticky notes, and many other features that help you bring ideas to life.
Jamboard also integrates with other tools you use: it's easy to clip content from the web using Google Search, insert a Google Doc, or add images from Drive or your smartphone.
Jamboard offers the familiar interaction style of a whiteboard, without the annoyances. No dried-out markers or ineffective erasers. Jamboard includes a specially designed stylus and eraser that work without any batteries or charging and without any complicated pairing or setup. Just pick them up and jam.
Jamboard also understands the difference between the stylus and your finger, so you can draw with one and erase with the other. Of course, moving and resizing objects is natural, just like on your phone or tablet.
Jamboard was custom designed to meet the highest standards of fidelity and responsiveness so there are no compromises in the visual creativity process.
At the center of the experience is a brilliant 55 inch 4k ultra-high-definition touch display so you never miss a detail.  A wide-angle camera, microphone and speakers are integrated into the design so they're functional while unobtrusive. Built-in Wi-Fi, Bluetooth, NFC, HDMI and Google Cast offer more ways for Jamboard to interact with the other devices you rely on.
Join hundreds of very happy clients and feel the love again!
Book a slot for a coffee and online chat
with our Technology Strategist and founder Tony Capewell